Kje raste kava? Ali veste? 
Tropski in subtropski pas
Kavovec uspeva v tropskem in subtropskem pasu po celotni Zemlji. Najdemo jo v Srednji in Južni Ameriki, Afriki ter Aziji. Najbolja znana in tudi največja proizvajalka kave je Brazilija. Njeni prebivalci pa zavzemajo drugo mesto na lestvici držav, ki konzumirajo največ kave. Na prvem mestu so Finci. Zadnja desetletja se vse bolj uveljavljajo majhne kmetije in združenja, ki nimajo dosti skupnega z ogromnimi plantažami kave v ravnicah.
Tropical and subtropical area
Coffee tree grows in tropical and subtropical area around the world. We can find it in Latin and South America, Africa and Asia. Brazil is the biggest producer of coffee in the world. Brazilian people are also the second on chart for coffee consumption, leading are Finish people. In last decade smaller farms and associations are getting more attention than big coffee plantations in valleys.
Coffea Arabica
Vrsta kave Arabica je trenutno najbolj aromatična, znana vrsta kave. Ima ogromno število podvrst(v nadaljevanju varietal), ki se še vedno na novo odkrivajo, razvijajo in križajo. Ene bolj znanih so Bourbon, Pacamara, Catuai, Caturra, Maragogype, Heirloom in seveda Gesha. Vse naštete spadajo v avtohotne(čiste) varietale. Skozi stoletja so se dodatno križale ali razvijale s pomočjo selekcij. Danes imamo tako široko izbiro različnih varietalov, ki rastejo na različnih koncih sveta. Vsaka zase nudi unikatno paleto okusov.
Coffea Arabica
Coffea Arabica and its varietals are the most aromatic one. It has a lot of varietals that are still being discovered, crossed and mutated. Some of more familiar varietals are Bourbon, Pacamara, Catuai, Caturra, Maragogype, Heirloom and ofcourse Gesha. Al these are so called pure varietals. Throughout centuries they were additionaly crossed or selected. Today we have a huge range of varietals that grow in different parts of the world. Each one has it's distinctive taste.
Prihaja iz Etiopije
O točni zgodovini kave vam več povemo v kakšnem drugem zapisu. Na kratko pa lahko povzamemo, da je kava(Arabica), ki se je razširila po svetu prišla in tudi izvira iz Etiopije. Od tam so jo prinesli v Jemen, kjer so prvi pričeli pražiti in pripravljati kavo. Prepoznali so njeno vrednost. Zaradi trgovine so želeli ohraniti monopol, kava je tako več stoletij bila samo v Jemnu.
Coming from Ethiopia
We will discuss history of coffee in another blog. In order to understand where coffee grows we can state that Arabica that spread througout the world came from Ethiopia. From there it was transfered to Yemen, where roasting and preparing coffee first took place. They recognized the value of this beverage. Because of trade they wanted to have monopol on coffee that's why it's didn't get out of Yemen for quite some time.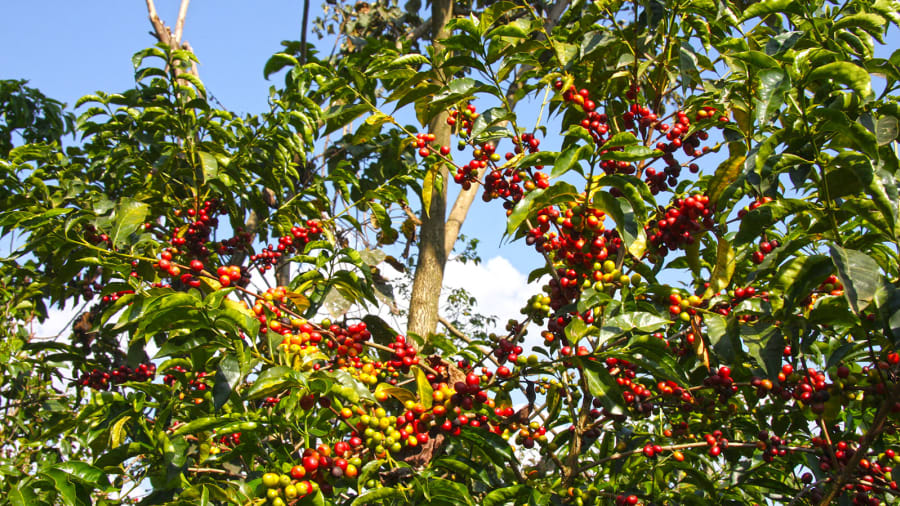 Prihod v Ameriko
Od tam jo mnogo kasneje, preko na novo nastalih trgovskih poti, pripeljejo v Azijo(Indija, Java). Od tam pa v Francijo in nazaj na otok Saint Monique od koder se kava ponovno nekaj časa ne premakne. Iz otoka potuje kava v Srednjo in Južno Ameriko ter nazaj v Afriko, kjer jo najdemo še danes.
Getting to America
Coffee left it once again much later, with help of new trading routes and spread to Asia(India, Java). From there it was brought to France and then to Saint Monique, from where she again didn't move for some time. Then they brought it to Latin and South America and back to Africa, where we still find coffee today.
Kdo jo prideluje?
Kava se je razširila kot ena od dobrin za trgovce, ki so iskali nove produkte in nove trge. Žal imajo tisti, ki so kavo zadnja štiri stoletja vzgajali nemalokrat krute usode. To so namreč večinoma bili sužnji prepeljani iz Afrike ali zasužnjena avtohotna plemena. Tako neljubeče kot je bilo njihovo življenje je bila tudi vzgoja kavovcev. Za silo, za preživetje in za dobiček.
Who is producing?
Coffee became very important merchandise. Unfortunately, people who were growing coffee in past four centuries did not have nice and shiny fate. They were actually enslaved indigenous people from Latin and South America or enslaved African people. Their lives were full of misery and they grew coffee because they had no other choice. So the product was very low quality.
Kvaliteta in manjše kmetije
Kvaliteta kave zaradi slabih pogojev delavcev vse do današnjih dni počasi raste. Še danes veliko pridelovalcev kave niti ne pokrije stroškov pridelave kave. Veliki preboji pa so se vseeno zgodili v zadnjih treh desetletjih. Kvaliteta kave je zrastla predvsem na manjših kmetijah, ki jih velikokrat vodijo družine.
Quality and small farms
Quality is still an issue today and so are the lives of farmers growing coffee. Evene today some of the coffee workers don't get paid enough. Some of them don't even cover the production costs which is alarming. Nevertheless quality of coffee has grown on smaller farms which are commonly run by family or comunity.
Vizija Specialty kave
Vizija Specialty kave je predvsem, da bi bilo za vse dovolj in za vse pravično. Kmetje, ki so za svoj pridelek dobro plačani, bodo vsekakor bolj zadovoljni. Z povezovanjem v skupnosti se manjše kmetije vključijo na trg kave, kjer svoj pridelek lažje in tudi boljše prodajo. Pražarne imajo sedaj bolj kvalitetno kavo in lahko nadgrajujejo svoje znanje o praženju. Barista ima več veselja pri delu saj ni primoran delati z "enako" kavo ves čas. Specialty kava je delo v nastanku, umetnina, ki šele nastaja. Bodite del njenega razvoja.


Vision of Specialty coffee
The vision of Specialty coffee is enough and fair for everyone involved in coffee bussines. Farmers should be paid enough so that the quality of their lives and coffee will raise. With connecting to communities, smaller farms can get involved in coffee makret, where they can sell their product better. As a result roasteries have better quality of coffee and can develop their roasting techniques even further. Barista get's more joy and versatility out of their work. Specialty coffee is a piece of art ehich is still being created. Be a part of the movement.
Več informacij o kavi dobite na uradni strani Specialty kave-> https://sca.coffee/